A22F - MkVII, MkVII Crocodile, MkVII AVRE, MkVIII, MkVIII Crocodile
We'll start with the later variants because these are by far the most common survivors. The later Churchills were all based upon the MkVII A22F 'Heavy Churchill' and are easily distinguished by their round side hatches, round driver's vision ports and round Besa mount. So the rule of thumb is 'if a hull has round apertures then it's a later Mk of Churchill'. The MkVII turret is also quite distinct in shape from the earlier Mks, often be equipped with the all round vision cupola and twin element sighting vane.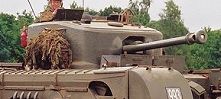 The majority of the later MkVII turrets have bulges either side of the Gun mantlet although not all. OK, so assuming we've found a hull with round apertures what else should we consider? Well the options are that we either have a MkVII, MkVII Crocodile, MkVII AVRE, MkVIII or possibly a MkVIII Crocodile.
Crocodiles can only be distinguished from their hull fittings - the flame projector at the front, trailer linkage at the back or armoured fuel conduit under the belly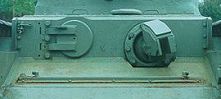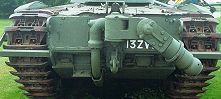 The majority of Crocodiles were MkVII although there is a MkVIII Crocodile at Puckapunyal and the Australians apparently ordered a a high percentage of MkVIIIs which were intended to be converted to Crocodiles. MkVIIIs are most easily identified by the 95mm gun (see MkV below) or if this is absent by the shape of the gun mantlet aperture which is different from that of the MkVII or MkVII AVRE. Other more subtle differences are that the rear right hand corner of the turret includes an additional narrow face and there is a prominent casting seem about two thirds up the turret all the way round above which the front face angles inwards slightly.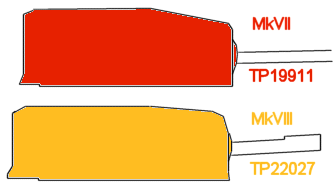 The differences in shape and size between the MkVII and VIII turrets are illustrated above. The TP number is the part number for the casting and is often found cast onto one of the turret faces.
MkVII AVREs, if complete, are easily identified by the 165mm howitzer and dozer blade.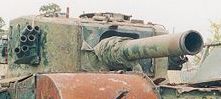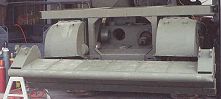 However, even if these are not present the shape of the mantlet, attachment points for the dozer, and turret attachment points for smoke launchers are potential giveaways.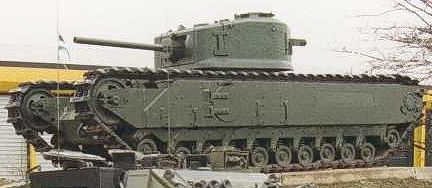 The vehicle above has been 'restored' to resemble a gun tank but the mantlet shape, bevel around the mantlet where a cover would have been attached, "I" shaped smoke launcher brackets and dozer attachment points on the hull sides indicate that this was once an AVRE.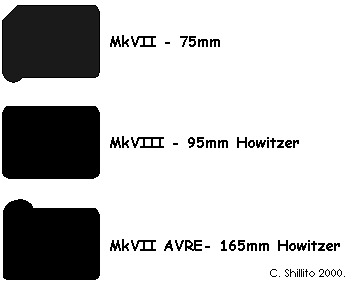 Mantlet Apertures.