W.S. 19 Control Unit No.2 MkII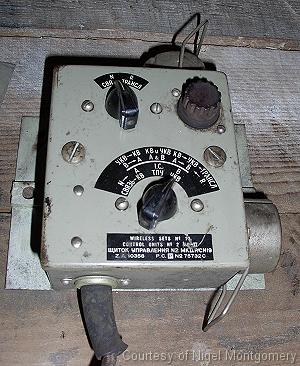 Mounted on RHS of the tank. Top switch has two positions, N for Normal operation and R.
In normal mode the lower switch selects between the A set, B set or intercom.
Position R has two uses:- "through calls" and Re-braodcast.
Through calls enable a distant station on the A net to communicate directly with a distant station on the B net, the control unit acting as a 'telephone exchange'. can be made from stations on the A set to stations on the B set., although the operator must move the selector switch each time the direction of message changes.
Re-Broadcast is the permanent or temporary relaying of all transmissions on the A net of one vehicle to the B sets of all other vehicles.
The black object to upper right is in fact a 'red' bulb which lights was a warning when the A set is left unattended.